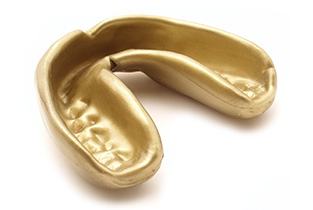 A professionally made, custom-fit mouthguard is the only way to ensure maximum protection for your teeth whilst playing contact sports. Multiple layers and a range of thicknesses can be applied to protect the teeth, to suit the potential level of impact.
Mouthguards can be made from a range of different colours and patterns, which includes team sport colours too!
A splint is a solid, hard plastic appliance worn between the upper and lower teeth at night to stop the teeth touching. Their main purpose is to stop the tooth wear caused by years of jaw clenching and night-time grinding. If left untreated, continued tooth wear can make the teeth look short, makes them sensitive and more prone to breaking.